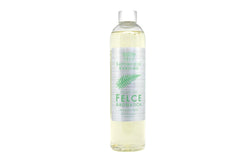 Felce Aromatica Shower Gel (Aromatic Fern)
Our shower gels are a blend of delicate and sulfate-free surfactants at pH 5.5, which cleanse effectively with a creamy lather to nourish the skin and provide deep moisture without damaging the hydrolipidic film. The formula is enriched with a blend of plant substances that act as substitutes for the natural moisturizing factor.
They are formulated with unique ingredients that represent the varied environments and landscapes found throughout Italy. 

For the development of the Felce Aromatica bath soap, we studied and extracted the essential properties of the roots and aromas of a specific and rare male fern (Dryopteris Felix-mas) which grows only in a microclimate area in the Italian Alps. The extract has a strong balancing effect on the skin avoiding irritation.
Part of the Felce Aromatica Collection.
Product size: 11.5 fl oz (350 ml)
Our emphasis on natural ingredients over harsh chemical agents in our bar soaps carries over to our liquid soap formulations as well. While many of the ingredients in our shower gels and liquid soaps have names that evoke a vision of chemicals, they are actually derived from natural processes, organic ingredients and extracts, or are preservatives from natural sources.
Here is a handy guide to our common liquid soap and shower gel ingredients and their purpose:
Cocamidopropyl Betaine: It is obtained from cocamide (a mixture of amides and fatty acids from coconut oil) and betaine (an amino acid found in plant foods and especially in beets). It has excellent cleansing properties and is ideal for baby products and cleaning products for sensitive skin
Sodium Lauroyl Sarcosinate: It has strong foaming properties, and is intended for sensitive and easily irritable skin
Sodium Coco-Glucoside Tartrate: It is an extremely delicate surfactant on the skin, suitable for products for children, the elderly and delicate skin.
Panthenol: Moisturizing. It also acts as a softening, soothing and anti-irritating agent. It also helps the skin create a barrier against irritation and water loss.
Glucose: Humectant and moisturizing agent, to prevent skin dryness.
Sodium Glutamate: Helps improve skin compatibility of the finished product.
Sorbitol: Has moisturizing and moisturizing properties on the skin.
Urea: Urea is a component of our skin. It has the property of retaining water molecules in the epidermis up to the deeper layers. This mechanism allows to keep the skin hydrated and soft; it is in fact useful for dehydrated, dry, chapped skin. It acts as a humectant and soothing.
Glycine: Glycine is the most abundant amino acid in collagen with moisturizing and antioxidant properties.
Hydrolyzed Wheat Protein: They are the hydrolyzed proteins of wheat. It has softening and restructuring properties and gives a silky and elastic touch.
Sodium PCA: Sodium PCA has a great ability to retain water, is used as an excellent humectant and moisturizer. The skin benefits from Sodium PCA, which makes it hydrated and elastic and contributes to maintaining the skin's natural pH level.
Caprylyl Glycol: Has moisturizing and emollient properties. It confers a smooth and dry sensory characteristic to topical skin care products.
Lactic Acid: In cosmetics, lactic acid acts as a product that regulates keratinization (the process that regulates skin renewal) and has a light peeling effect, leaving the skin smooth and flexible. It is also used as an adjunct in the treatment of problems related to acne, psoriasis and impure skin.
Caprylhydroxamic Acid: Green preservative / chelating agent
Ethylhexylglycerin: "Green" preservative with antimicrobial properties. However, it also has emollient, moisturizing and slightly humectant properties.
Citric Acid: Green preservative / chelating agent
Tetrasodium Glutamate Diacetate: Green preservative / chelating agent
This collection features a fragrance of aromatic fern which blends with the aromas of natural additives to create a fresh and intense note well-known among the traditional wet shaving community.
The Aromatic Fern fragrance blends with the aromas of natural additives, creating a fresh and intense note. It opens with the sparkling notes of Bergamot, Lemon and Tangerine. Then we come to the body, characterized by the spiciness of the Ginger root and Sichuan Pepper, all accompanied by the heady freshness of the Bourbon Geranium leaves.
The base of the fragrance is a sensual mix of amber notes, Sandalwood, Patchouli and Vetiver.
Ingredients: Aqua (Water), Cocamidopropyl Betaine, Sodium Lauroyl Sarcosinate, Sodium Coco-Glucoside Tartrate, Parfum (Fragrance), Glycerin, Panthenol, Glucose, Sodium Glutamate, Sorbitol, Urea, Glycine, Hydrolyzed Wheat Protein, Sodium PCA, Caprylyl Glycol, Lactic Acid, Caprylhydroxamic Acid, Ethylhexylglycerin, Citric Acid, Tetrasodium Glutamate Diacetate, Citronellol, Coumarin, Limonene
Customer Reviews
11/14/2022
Christopher F.
Fern Shower Gel
Love this product. Much more moisturizing than SV hard soaps and more fragrant. If you like English Fern/Wild Fern from Pens/Trumpers you'll love this! Highly recommended.
05/28/2022
Jose P.

United States
Very nice shower soap
It's very nice shower soap that feels good and clean. I was hoping the fragrance would be more "green" and fresh smelling but it smells more powdery and amber than I was expecting. Some of the other fragrances I received from this company smell wonderful and I have received several compliments.
03/05/2022
Carrie C.

United States
Over the top!
Feels and smells wonderful, leaving the skin soft! Would definitely recommend this and their other bath/soap products. I have many of them.