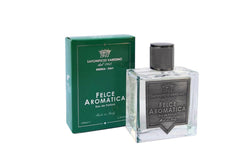 Felce Aromatica Eau de Parfum 100ml
Our Eau de Parfum in the 100ml size is the perfect finishing touch for your shave and grooming ritual. 
It is created using premium oils typical of a high-quality perfume with the fragrance characteristics of our Felce Aromatica collection.
A modern reinterpretation of the well-known Fern fragrance, with strongly aromatic and modern olfactory cues.The classic aromatic notes such as Clary Sage are accompanied by refreshing green and citrus aquatic notes, supported by a dominant woody floral heart, all enclosed by precious ambers.
This collection features a fragrance of aromatic fern which blends with the aromas of natural additives to create a fresh and intense note well-known among the traditional wet shaving community.
The Aromatic Fern fragrance blends with the aromas of natural additives, creating a fresh and intense note. It opens with the sparkling notes of Bergamot, Lemon and Tangerine. Then we come to the body, characterized by the spiciness of the Ginger root and Sichuan Pepper, all accompanied by the heady freshness of the Bourbon Geranium leaves.
The base of the fragrance is a sensual mix of amber notes, Sandalwood, Patchouli and Vetiver.