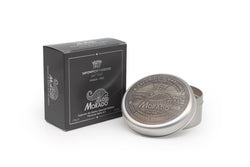 Morado Shaving Soap: Special Edition Beta 4.3
This special edition shaving soap is presented in an anthracite-colored aluminum tin with an intricately stamped metallic label in antique brass. The triple-milled hard soap is intended to be used with a shaving brush.
The Morado edition features the characteristic fragrance of the collection and uses our 'Beta 4.3' formulation - a further step forward in the evolution of our shaving soap in pursuit of enhanced lubrication and protection during the shave and enhanced post-shave skin feel.
The renewed formulation includes a larch tree extract which reduces trans-epidermal water loss (TEWL), making it an excellent choice for those skin types that tend to dryness. It also includes a new vegetal compound, based on castor oil, that gives a lubricating action and helps the razor mechanical action.
Part of the Morado Collection.
Product size: 5.3 oz (150g); 90mm diameter
Saponificio Varesino Shaving Soap formulations contain soluble ingredients that need to be activated with water. For best results use the following steps to prepare your soap:
* Wet the soap: cover the surface with a thin veil of hot water for 2-3 minutes. We recommend preparing your soap in one of our hand-carved wood shaving soap bowls.
* Wet the brush: Run the brush under warm water to saturate the bristles. This will prime it to accept the shaving cream or soap. Shake off any excess water.
* Add shaving soap: Run the bristles over the shaving soap. Because you're dealing with a quality soap, you actually don't need to use much to create an amazing lather.
* Work into a lather: Using circular motions, work the brush around your beard and enjoy the scent of your shaving soap. The circular motions will also raise hairs from the skin's surface for easier removal with the razor.
* Rinse the brush: Once you're done, run the brush under some cold water. Use your fingers to separate the bristles to get all of the soap out of the hair. Squeeze the excess water from the brush and set it back in its stand.
An intriguing, full-bodied and persistent masculine fragrance characterized by woody and amber notes.
The top notes present the fragrance with citrus hints of bergamot and mandarin, which enhance the aromatic and spicy heart of lavender, mint and ginger.
In the soft base notes, sandalwood, ambergris and oak moss are accompanied by the sweetness of vanilla and a slight hint of tobacco.
Ingredients: Sodium Cocoate, Potassium Stearate, Sodium Cocoyl Isethionate, Sodium Rapeseedate, Sodium Sunflower Seedate, Aqua / Water / Eau, Zea Mays (Corn) Kernel Extract, Lactis Proteinum, Fraxinus Ornus (Manna Ash) Sap Extract, Erythritol, Coco Glucoside, Shorea Stenoptera Seed Butter, Glyceryl Oleate, Ricinus Communis Oil, Galactoarabinan, Sucrose Cocoate, Parfum / Fragrance, Hydrogenated Castor Oil, Copernica Cerifera Cera, Macadamia Ternifolia Seed Oil, Butyrospermum Parkii (Shea) Butter, Prunus Amygdalus Dulcis (Sweet Almzaond) Oil, Orych Riceativa) Oil , Xanthan Gum, Glycerin, Stearic Acid, Sodium Chloride, Tocopheryl Acetate, Vitis Vinifera (Grape) Seed Oil, Sodium Gluconate, Citric Acid, Coumarin, Linalool, Alpha-Isomethyl Ionone, Limonene.
Customer Reviews
Morado shaving soap review
The Morado is my third SV soap and as usual it doesn't disappoint. As a straight razor user the SV Morado soap is one of the best soap performers on the market. It produces fantastic foam in no time enough for 3 passes. The cover, glide, and post shave is second to none, and on top of that the scent is elegant, masculine and smooth. If you want to try the best, that soap should not only be in your den but also on top of the shaving rotation.