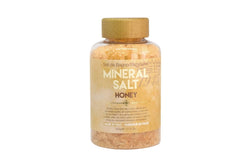 Saponificio Varesino mineral bath salts are a product over 6 million years in the making and dates back to a time when the Mediterranean Sea was pure and free of micro-plastics.

Our salt is sourced from a pristine Sicilian salt cave over 5,000 years old where it has remained untouched having never seen the light of day until it is gathered for processing into this relaxing bath additive.
Honey has long been considered one of nature's most valued skin remedies with antibacterial and antiseptic properties and the ability to provide moisture to the skin without making skin oily.
Product size: 17.5 oz (500 g)
Saponificio Varesino mineral bath salts are mined on the Island of Sicily from within the Petralia salt deposits - one of the richest salt deposits in Europe.
This huge lens of salt is contained within the heart of a mountain 1,100 meters above sea level and the salts it produces are of exceptional quality. 
The Petralia deposit is the only salt mining site in the world where the whole  product process - from harvesting to packing and storing - takes place underground in more than 70 kilometres of tunnels. This ensures that the salt that leaves the mine is the same as it was when it was deposited from Mediterannean Sea nearly 6 million years ago.
Hemp Protein Mineral Bath Salts
Ingredients: Sodium Chloride, Parfum/Fragrance, Hydrolyzed Hemp Seed Extract, Hexyl Cinnamal, Limonene, Linalool, CI 74180 (Solvent Blue 38) CI 19140 (Yellow 5)
Aloe Vera Bath & Body Salt
Ingredients: Sodium Chloride, Parfum/Fragrance, Aloe Barbadensis Leaf Juice, Alpha Isomethyl Ionone, Benzyl Benzoate, Benzyl Salicylate, Butylphenyl Methylpropional, Citronellol, Hexyl Cinnamal, Hydroxycitronellal, Hydroxyisohexyl 3-CyclohexeneCarboxaldehyde, Linalool, CI 77288 (Green 17)

Honey Mineral Bath Salt
Ingredients: Sodium Chloride, Parfum/Fragrance, Mel Extract, CI 77492 (Iron Oxide)
Goats Milk Mineral Bath Salt
Ingredients: Sodium Chloride, Parfum/Fragrance, Caprae Lac (Goat Milk), Cinnamyl Alcohol, Hydroxycitronellal, Linalool, Butylphenyl Methylpropional, CI 77492 (Iron Oxide)
Lavender Bath & Body Salt
Ingredients: Sodium Chloride, Parfum/Fragrance, Lavandula Angustifolia (lavender) Flower Extract, Benzyl Benzoate, Citronellol, Coumarin, Geraniol, Limonene, Linalool, CI 60730 (D&C Violet No. 2)
Aloe Vera Bath & Body Salt
Ingredients: Sodium Chloride, Parfum/Fragrance, Aloe Barbadensis Leaf Juice, Alpha Isomethyl Ionone, Benzyl Benzoate, Benzyl Salicylate, Butylphenyl Methylpropional, Citronellol, Hexyl Cinnamal, Hydroxycitronellal, Hydroxyisohexyl 3-CyclohexeneCarboxaldehyde, Linalool, CI 77288 (Green 17)
Almond Bath & Body Salt
Ingredients: Sodium Chloride, Parfum/Fragrance, Prunus Amygdalus Dulcis (Sweet Almond) Oil, Citric Acid, CI 74180 (Solvent Blue 38) CI 77499 (Iron Oxides) 
Coconut Bath & Body Salt 
Ingredients: Sodium Chloride, Parfum/Fragrance, Cocos Nucifera (Coconut) Oil, Alpha Isomethyl Ionone, Benzyl Salicylate, Butylphenyl Methylpropional, Coumarin, Hexyl Cinnamal, Limonene, Linalool, CI 77492 (Iron Oxide)