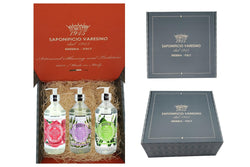 Grecale Liquid Soap Gift Box
Our Grecale Collection Liquid Soap Gift Box come packed in an elegant gift box for a beautiful presentation that includes three 16.9 oz liquid hand and body soaps in: Lily of the Valley, Red Rose, and Jasmine.
The name "Grecale" is a tribute to the Mediterranean wind that blows from the North to East and supports the growth of famous fruits and flowers found throughout Italy.
Our soothing liquid soaps are made with no parabens and using only natural ingredients. Suitable as shower gel or hand soap. Gentle on sensitive, mature and young skin, our liquid soaps cleanse and coat your skin with a delicate fragrance while it moisturizes.