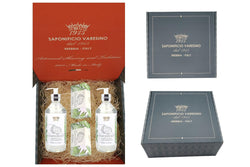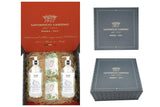 Natural Essentials Collection Gift Box
Our Natural Essentials Collection Gift Boxes come packed in an elegant gift box for a beautiful presentation that includes two 16.9 oz liquid hand and body soaps and two 10.5 oz wrapped bar soaps. Available in: Lemon, Coconut and Lavender.
Our Natural Essentials line uses an ingredient synonymous with Italy - olive oil - to give these soaps a boost in its ability to moisturize the skin and pairs it with three timeless natural ingredients. 
This minimalistic approach to ingredients and soap-making is a hallmark of our artisan tradition.