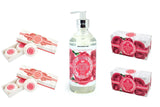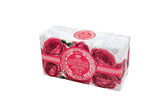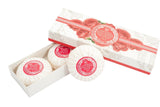 Grecale Collection Rose Bouquet
In Italy, red roses or rosa rossa are the symbol of passion and love. The essential oil from this iconic flower is traditionally used to soothe and tone skin with anti-inflammatory and antibacterial properties.
Each of our triple-milled 'Grecale' soap bars is cut by hand and wrapped in fine paper to create an elegant presentation that is a true connection between classic artisan soap-making and modern design.
Our special floral 'bouquets' for Mother's Day include a liquid hand and shower soap, two boxed 3-piece plisse round soaps, and two wrapped bar soaps - all in a beautiful red rose fragrance.