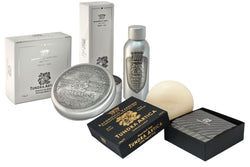 Tundra Artica Special Edition Trio with Bath Soap
This group of shave and body care products for him take their skin benefit properties from the lichens growing in an extremely small and hardly accessible zone in the Italian Alps with a microclimate similar to the Arctic tundra of Lapland, Siberia and Greenland.
From the lichens growing here, we extracted the active ingredients that makes this collection perfect for sensitive skin as they offer a soothing and healing action with freshness and vitality.
For the fragrance, we used Agar Wood - a quintessential Oud scent - to convey a feeling of open spaces, freshness and a woody perception of shrubs.
This trio includes a Tundra Artica Special Edition Shaving Soap and After Shave Lotion in our elegant Special Edition packaging as well as a matching Shower Soap.