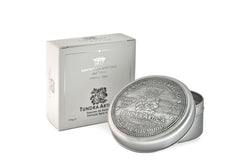 Tundra Artica Shaving Soap: Special Edition Beta 4.3
This special edition shaving soap is presented in an anthracite-colored aluminum tin with an intricately stamped metallic label in antique brass. The triple-milled hard soap is intended to be used with a shaving brush.
The  edition features the characteristic fragrance of the collection and uses our 'Beta 4.3' formulation - a further step forward in the evolution of our shaving soap in pursuit of enhanced lubrication and protection during the shave and enhanced post-shave skin feel.

In an extremely small and hardly accessible zone in the Italian Alps we found a microclimate similar to the Arctic tundra of Lapland, Siberia and Greenland. From the lichens growing here, we extracted the active ingredients that makes this collection perfect for sensitive skin as they offer a soothing and healing action with freshness and vitality.
For the fragrance of Tundra Artica, we used Agar Wood - a quintessential Oud scent - to convey a feeling of open spaces, freshness and a woody perception of shrubs.
Part of the Tundra Artica Collection.

Product size: 5.3 oz (150g); 90mm diameter
Saponificio Varesino Shaving Soap formulations contain soluble ingredients that need to be activated with water. For best results use the following steps to prepare your soap:
* Wet the soap: cover the surface with a thin veil of hot water for 2-3 minutes. We recommend preparing your soap in one of our hand-carved wood shaving soap bowls.
* Wet the brush: Run the brush under warm water to saturate the bristles. This will prime it to accept the shaving cream or soap. Shake off any excess water.
* Add shaving soap: Run the bristles over the shaving soap. Because you're dealing with a quality soap, you actually don't need to use much to create an amazing lather.
* Work into a lather: Using circular motions, work the brush around your beard and enjoy the scent of your shaving soap. The circular motions will also raise hairs from the skin's surface for easier removal with the razor.
* Rinse the brush: Once you're done, run the brush under some cold water. Use your fingers to separate the bristles to get all of the soap out of the hair. Squeeze the excess water from the brush and set it back in its stand.
For the fragrance, we used Agar Wood - a quintessential Oud scent - to convey a feeling of open spaces, freshness and a woody perception of shrubs.
Customer Reviews
Nice scent
A nice soapy, clean smell with a hint of oud tying it all together.
12/19/2021
George M.

United States
The best, that's the only word that comes to my mind with this excellent soap.
Perfect scent, perfect lathering. I have been wet shaving for 20 years and I haven't founs a better soap. Worth every penny!