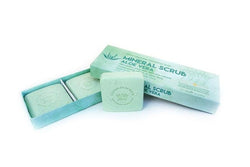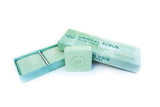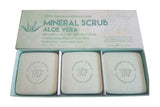 Pure Aloe Vera Mineral Scrub Bar 3-Piece Boxed Set
Our mineral scrub bars use the finest micronized silica to produce a delicate exfoliation action for face and body.
The Pure Aloe Vera Mineral Scrub set includes three bars, carefully packaged in a premium paperboard box. Excellent for gifting or for personal use.
In addition to the exfoliating properties of the silica, pure aloe vera is added to the soaps to provide hydrating, soothing and anti-inflammatory benefits with each use.
Product size: 3.5 oz x 3; 10.5 oz total wt
The cauldron production process, or Marseilles method, used for our soap represents the artisan tradition by which man has created soap for centuries. It is the skill, experience and eyes of the maker and not the management of machines or mechanical processes that brings the soap to life.
In a first phase called saponification, the fats – mainly consisting of glycerides and fatty acids – are converted into sodium salt. This operation must be carried out so that the resulting product is of good quality and suitable to be subjected to further steps of processing. From this first phase, it is therefore necessary to obtain a soap mass generally containing 30% water, with the least possible amount of alkali and electrolytes, as well as glycerol whose recovery is an economic factor of this process.
That mass is then further cooked, washed and liquified before being poured into soap molds and left to cure until the bars are hand-cut in our workshop.
Just as in the tradition then, we still produce soap with this ancient and natural method, which ensures a final product of top quality with excellent cleaning power but also serves as a very gentle and soothing treatment that results in softer and more elastic skin with repeated usage over time.
Wet mineral scrub bar with water and agitate with hands or cloth to produce lather.
Gently massage foam later onto skin or face with a circular, massaging motion to allow micronized silica to exfoliate skin's surface and remove dead skin cells.
Allow foam to remain on skin to further treat skin and then rinse with water.
Hemp Mineral Scrub Soap
Ingredients: Sodium Palmate, Sodium Palm Kernelate, Aqua(Water), Parfum(Fragrance), Hydrated Silica, Hydrolyzed Hemp Seed Extract, Glycerin, Sodium Chloride, Prunus Amygdalus Dulcis (Almond) Shell Powder, Sodium Gluconate, Hexyl Cinnamal, Limonene, Linalool
Goats Milk Mineral Scrub Soap
Ingredients: Sodium Palmate, Sodium Palm Kernelate, Aqua(Water), Parfum(Fragrance), Hydrated Silica, Caprae Lac (Goat Milk), Glycerin, Sodium Chloride, Prunus Amygdalus Dulcis (Almond) Shell Powder, Sodium Gluconate, Cinnamyl Alcohol, Hydroxycitronellal, Linalool, Butylphenyl Methylpropional
Coconut Mineral Scrub Soap
Ingredients: Sodium Palmate, Sodium Palm Kernelate, Aqua(Water), Parfum(Fragrance), Hydrated Silica, Cocos Nucifera (Coconut) Oil, Glycerin, Sodium Chloride, Cocos Nucifera (Coconut) Shell Powder, Sodium Gluconate
Honey Mineral Scrub Soap
Ingredients: Sodium Palmate, Sodium Palm Kernelate, Aqua(Water), Parfum(Fragrance), Hydrated Silica, Mel Extract, Glycerin, Sodium Chloride, Prunus Amygdalus Dulcis (Almond) Shell Powder, Sodium Gluconate
Seaweed Mineral Scrub Soap
Ingredients: Sodium Palmate, Sodium Palm Kernelate, Aqua(Water), Parfum(Fragrance), Hydrated Silica, Laminaria Digitata Extract, Glycerin, Sodium Chloride, Prunus Amygdalus Dulcis (Almond) Shell Powder, Sodium Gluconate, Amyl Cinnamal, Citral, Coumarin, Linalool, CI 77891 (White 6), CI 77007 (Blue 29)
Turmeric Mineral Scrub Soap
Ingredients: Sodium Palmate, Sodium Palm Kernelate, Aqua(Water), Parfum(Fragrance), Hydrated Silica, Curcuma Longa Root Extract, Glycerin, Sodium Chloride, Prunus Amygdalus Dulcis (Almond) Shell Powder, Sodium Gluconate, Citronellol, Coumarin, Hexyl Cinnamal, Limonene, Linalool, CI 77891 (White 6), CI 77492 (Yellow 42 & 43)
Coffee Mineral Scrub Soap
Ingredients: Sodium Palmate, Sodium Palm Kernelate, Aqua/Water/Eau, Parfum(Fragrance), Hydrated Silica, Glycerin, Caffeine, Sodium Chloride, Prunus Amygdalus Dulcis (Almond) Shell Powder, Sodium Gluconate, Coumarin, CI 77891 (White 6), CI 77491 (Red 101 & 102)

Pure Aloe Vera Mineral Scrub Soap
Ingredients: Sodium Palmate, Sodium Palm Kernelate, Aqua/Water/Eau, Parfum(Fragrance), Hydrated Silica, Glycerin, Aloe Barbadensis Leaf Juice, Sodium Chloride, Prunus Amygdalus Dulcis (Almond) Shell Powder, Sodium Gluconate,  Alpha Isomethyl Ionone, Benzyl Benzoate, Benzyl Salicylate, Butylphenyl Methylpropional, Citronellol, Hexyl Cinnamal, Hydroxycitronellal, Hydroxyisohexyl 3-CyclohexeneCarboxaldehyde, Linalool, CI 77891 (White 6), CI 77288 (Green 17)