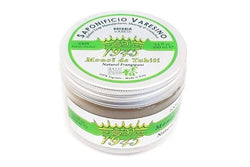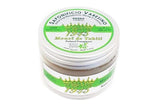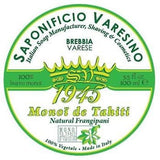 Pure Monoi de Tahiti Butter Pre-Shave Skin Treatment
Saponificio Varesino pure butter pre-shave treatments are designed to fight dryness by maintaining optimal levels of moisture to promote elasticity and skin tone.
Monoi de Tahiti oil is created when pure coconut oil is enriched with macerated Frangipani (Tahitian gardenia) flowers. The flowers are hand-picked at a very particular stage in their development just prior to opening for maximum effectiveness.
Designed to be applied and absorbed into the skin overnight prior to shaving the following morning, the butter can also be used immediately before shaving if given time to absorb fully into the skin. The soothing properties of the butter allow its use directly on dry, inflamed, scaly or abraded skin.
Product size: 3.5 fl oz (100ml). 
*Please note that due to the fluid nature of the product, the contents may settle or shift during shipment and tin may appear less full than expected.
For best results, apply a thin layer evenly to the face before sleep and gently massage into skin. The temperature of the skin will "melt" the butter on contact and allow for easy application.
Allow to absorb into the skin overnight. Prior to shaving, prepare face with shaving soap as usual, using a pre-shave oil as well if desired.
If not applied overnight, apply a thin layer evenly to the face and allow some time to fully absorb into the skin prior to application of pre-shave oils or shaving soap.
Always open tin in horizontal position to avoid spilling butter which may liquify slightly in warmer conditions.
Ingredients: Cocos nucifera (coconut) oil, Gardenia tahitensis flower, Plumeria alba flower extract, Plumeria rubra flower extract, Tocopherol.