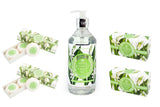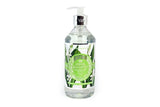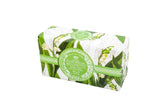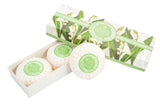 Grecale Collection Lily of the Valley Bouquet
Lily of the Valley or mughetto is a fragrant flowering plant used in ceremonies, perfumes and in cosmetics. It is considered a symbol of purity and humility, sweetness, and renewed happiness.
Each of our triple-milled 'Grecale' soap bars is cut by hand and wrapped in fine paper to create an elegant presentation that is a true connection between classic artisan soap-making and modern design.
Our special floral 'bouquets' for Mother's Day include a liquid hand and shower soap, two boxed 3-piece plisse round soaps, and two wrapped bar soaps - all in a beautiful lily of the valley fragrance.