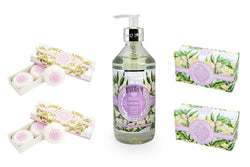 Grecale Collection Jasmine Bouquet
Jasmine or gelsomino is rich in a variety of active chemical ingredients that are beneficial to the skin. Because of its antioxidants, jasmine can help protect from environmental and like many natural oils, it helps with the dry skin and provide natural moisture.

Each of our triple-milled 'Grecale' soap bars is cut by hand and wrapped in fine paper to create an elegant presentation that is a true connection between classic artisan soap-making and modern design.
Our special floral 'bouquets' for Mother's Day include a liquid hand and shower soap, two boxed 3-piece plisse round soaps, and two wrapped bar soaps - all in a beautiful jasmine fragrance.