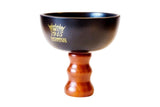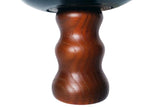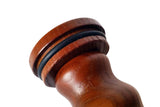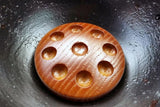 Carved Wooden Grail Lathering Bowl
Saponificio Varesino's Carved Wooden Grail Lathering Bowl is carved and shaved by hand by local Italian master woodworkers and serves as the perfect complement to our premium shaving soaps. 
The Grail Lathering Bowl is made of Alder wood and painted black with the Saponificio Varesino crown logo overlaid in gold while the handle is made of Ash wood painted in a walnut color to provide a beautiful and elegant contrast.
The inner cup has an "orange peel" lacquering effect in order to help incorporate the air in the soap lather. The handle's head has been designed to help pushing the air inside of the lather to create a richer and foamy cream. The handle has an ergonomic shape and can be easily detached from the cup for a easier storage.
Designed in two fully washable pieces, it allows for easy disassembly and storage of the handle inside the bowl. 
Customer Reviews
03/12/2023
HARLAN T.

United States
Whadda Ya Want ?
Ultimately, I want the lather bowl which provides the best lather. It's great to have a bowl which makes great lather with minimal time and effort. Having met those goals, a unique and stylish looking bowl is the frosting on the cake. This is the lather bowl for me.
04/17/2021
Merle

United States
Finally, I understand how the grail works!
I purchased one of these years ago and never really 'got it' - until recently. If you try to keep your soaps clean and healthy, scraping the small amount you'll use daily off the top with the back of a spoon or knife makes perfect sense. Especially with a chalice that you can take the handle off from the inside of the bowl, scrape the soap onto its top anchoring into the depressions craftspeople have thoughtfully added. Then, reassemble and proceed with your nicely wetted brush to a bowl full of dense rich lather! It's Brilliant! I was so fixated on loading on the top of my pucks and then building lather in a separate bowl, I didn't make the connection until a couple of months ago.
03/20/2021
Brandon M.

United States
unique soap dish
Time will tell how this wooden lather bowl holds up. It's very easy to hold unlike heavy porcelain dishes. There is a small chip inside the bowl where the handle inserts after a couple uses. If it looks like it will become an issue I'll just put a dab of spar varnish on it. Overall I'm happy with this purchase. It's a unique item (I've never seen one before) and it functions quite well for lathering shave soap. The base of the handle is wide enough to stand the bowl up with a Simpson Chubby 2 brush sitting in it without tipping over.