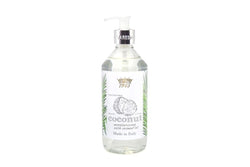 Coconut Essentials Liquid Hand and Shower Soap
Our Natural Essentials line uses an ingredient synonymous with Italy - olive oil - to give these soaps a boost in its ability to moisturize the skin and pairs it with the rich fatty acids of coconut oil. This minimalistic approach to ingredients and soapmaking is a hallmark of artisan approach.
Coconut oil is a natural antibacterial agent and its saturated fat content works to help repair the skin's natural barrier while providing a classic fragrance.
Each of our triple-milled organic vegetable soap bars are vegan-friendly and produced exclusively from coconut oil with no palm oil, chemical preservatives or chelating agents.

Net Wt. 16.9 fl oz
Our emphasis on natural ingredients over harsh chemical agents in our bar soaps carries over to our liquid soap formulations as well. While many of the ingredients in our shower gels and liquid soaps have names that evoke a vision of chemicals, they are actually derived from natural processes, organic ingredients and extracts, or are preservatives from natural sources.
Here is a handy guide to our common liquid soap and shower gel ingredients and their purpose:
Cocamidopropyl Betaine: It is obtained from cocamide (a mixture of amides and fatty acids from coconut oil) and betaine (an amino acid found in plant foods and especially in beets). It has excellent cleansing properties and is ideal for baby products and cleaning products for sensitive skin
Sodium Lauroyl Sarcosinate: It has strong foaming properties, and is intended for sensitive and easily irritable skin
Sodium Coco-Glucoside Tartrate: It is an extremely delicate surfactant on the skin, suitable for products for children, the elderly and delicate skin.
Panthenol: Moisturizing. It also acts as a softening, soothing and anti-irritating agent. It also helps the skin create a barrier against irritation and water loss.
Glucose: Humectant and moisturizing agent, to prevent skin dryness.
Sodium Glutamate: Helps improve skin compatibility of the finished product.
Sorbitol: Has moisturizing and moisturizing properties on the skin.
Urea: Urea is a component of our skin. It has the property of retaining water molecules in the epidermis up to the deeper layers. This mechanism allows to keep the skin hydrated and soft; it is in fact useful for dehydrated, dry, chapped skin. It acts as a humectant and soothing.
Glycine: Glycine is the most abundant amino acid in collagen with moisturizing and antioxidant properties.
Hydrolyzed Wheat Protein: They are the hydrolyzed proteins of wheat. It has softening and restructuring properties and gives a silky and elastic touch.
Sodium PCA: Sodium PCA has a great ability to retain water, is used as an excellent humectant and moisturizer. The skin benefits from Sodium PCA, which makes it hydrated and elastic and contributes to maintaining the skin's natural pH level.
Caprylyl Glycol: Has moisturizing and emollient properties. It confers a smooth and dry sensory characteristic to topical skin care products.
Lactic Acid: In cosmetics, lactic acid acts as a product that regulates keratinization (the process that regulates skin renewal) and has a light peeling effect, leaving the skin smooth and flexible. It is also used as an adjunct in the treatment of problems related to acne, psoriasis and impure skin.
Caprylhydroxamic Acid: Green preservative / chelating agent
Ethylhexylglycerin: "Green" preservative with antimicrobial properties. However, it also has emollient, moisturizing and slightly humectant properties.
Citric Acid: Green preservative / chelating agent
Tetrasodium Glutamate Diacetate: Green preservative / chelating agent
Lemon Essentials Liquid Hand & Shower Soap:
Ingredients: Aqua/Water/Eau, Cocamidopropyl Betaine, Sodium Coceth Sulfate, Lauryl Glucoside, Parfum/Fragrance, Sodium Chloride, Phenoxyethanol, Glycerin, Ethylhexylglicerin,  Olea Europaea Fruit Oil, Citronellol, Limonene, Linalool

Lavender Essentials Liquid Hand & Shower Soap:
Ingredients: Aqua/Water/Eau, Cocamidopropyl Betaine, Sodium Coceth Sulfate, Lauryl Glucoside, Parfum/Fragrance, Sodium Chloride, Phenoxyethanol, Glycerin, Ethylhexylglicerin, Olea Europaea Fruit Oil, Coumarin, Linalool