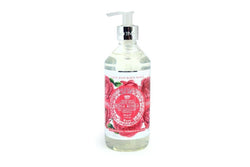 Red Rose Liquid Hand & Shower Soap
A soothing liquid soap with no parabens and using only natural ingredients. Suitable as shower gel or hand soap. Gentle on sensitive, mature and young skin, our liquid soaps cleanse and coat your skin with a delicate fragrance while it moisturizes.
In Italy, red roses are the symbol of passion and love. The essential oil from this iconic flower is traditionally used to soothe and tone skin with anti-inflammatory and antibacterial properties.
Part of the Grecale Floral Soap Collection.
Net Wt. 16.9 fl oz
Lemon Liquid Soap:
Ingredients: Aqua/Water/Eau, Cocamidopropyl Betaine, Sodium Coceth Sulfate, Lauryl Glucoside, Parfum/Fragrance, Sodium Chloride, Phenoxyethanol, Glycerin, Ethylhexylglicerin, Citronellol, Limonene, Linalool
Lavender Liquid Soap:
Ingredients: Aqua/Water/Eau, Cocamidopropyl Betaine, Sodium Coceth Sulfate, Lauryl Glucoside, Parfum/Fragrance, Sodium Chloride, Phenoxyethanol, Glycerin, Ethylhexylglicerin, Coumarin, Linalool
Rose Liquid Soap:
Ingredients: Aqua/Water/Eau, Cocamidopropyl Betaine, Sodium Coceth Sulfate, Lauryl Glucoside, Parfum/Fragrance, Sodium Chloride, Phenoxyethanol, Glycerin, Ethylhexylglicerin, Alpha Isomethyl Ionone, Benzyl Salicylate, Butylphenyl Methylpropional, Citronellol, Eugenol, Geraniol
Lily of the Valley Liquid Soap:
Ingredients: Aqua/Water/Eau, Cocamidopropyl Betaine, Sodium Coceth Sulfate, Lauryl Glucoside, Parfum/Fragrance, Sodium Chloride, Phenoxyethanol, Glycerin, Ethylhexylglicerin, Citronellol, Geraniol, Hexyl Cinnamal, Hydroxycitronellal, Hydroxyisohexyl 3-Cyclohexene Carboxaldehyde, Linalool
Jasmine Liquid Soap:
Ingredients: Aqua/Water/Eau, Cocamidopropyl Betaine, Sodium Coceth Sulfate, Lauryl Glucoside, Parfum/Fragrance, Sodium Chloride, Phenoxyethanol, Glycerin, Ethylhexylglicerin, Amyl Cinnamal, Benzyl Salicylate, Butylphenyl Methylpropional, Cinnamyl Alcohol, Hexyl Cinnamal, Hydroxycitronellal, Hydroxyisohexyl 3-Cyclohexene Carboxaldehyde, Linalool