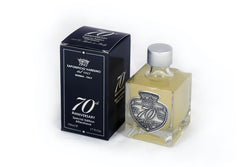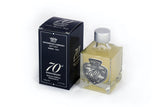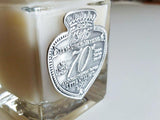 70th Anniversary Collection Special Edition Aftershave Lotion
Our aftershave lotion combines the fragrance characteristics of an eau de toilette and rich, complex formulation of a cream moisturizer to produce a soothing post-shave experience. This special edition is presented in an aluminum bottle with an intricately stamped metallic label in antique brass.
Its mix of natural active ingredients in high concentrations are specially designed for a man's skin and each deliver unique and valuable skin benefits:
Rocket: anti oxidant, anti redness
Witch Hazel: purifying and decongestant
Lemon: toning, anti-aging, firming
Aloe: healing
Malva: decongestant, emollient, moisturizing
Calendula: nourishing, healing, calming, soothing
Chamomile: soothing, antibacterial, soothing, refreshing
Eucalyptus: balsamic, refreshing, antibacterial
Lavender: antibacterial, soothing
Vitamin E: anti-inflammatory, emollient. 
 Part of the 70th Anniversary Collection.
Product size: 3.4 fl oz (100ml)
Always shake well before use. Pour on the palm of your hand and apply to face by taking care to massage the lotion into the skin rapidly until absorbed completely.
The 70th Anniversary Collection fragrance is a modern reinterpretation of the well-known Cologne scent, with strongly creative and evocative olfactory cues. The classic citrus notes are accompanied with refreshing aquatic notes, supported by a rich and balanced green aromatic floral and rural heart. All set on a base of precious woods and amber.
Ingredients: Rocket, Witch hazel, Lemon, Aloe, Malva, Calendula, Chamomile, Eucalyptus, Lavender, Vitamin E.